'What is your favourite part of Independence Day?'
August 16, 2017
Joining Indians in celebrating the 71st Independence Day, the Google created a stunning, vibrant doodle with the Indian tricolour. Not stopping at that, it has also created a poll that puts forth the question – "What is your favourite part of Independence day?"
As India celebrates 70 years of independence from British rule, there is more than one reason for people to celebrate. Starting with Prime Minister Narendra Modi's speech at the Red Fort to cute little children dressed as Bharat Mata, Mahatma Gandhi and Jawaharlal Nehru heading to school — it is only fitting that Indians across the country, and in other parts of the world, come together to celebrate this historic moment.
But what is it about the most significant day of the country that you cherish the most? Well, we aren't asking, it's Google.
Joining Indians in celebrating our 71st Independence Day, the search engine created a stunning, vibrant doodle with the Indian tricolour. Not stopping at that, it has also created a poll that puts forth the question, "What is your favourite part of Independence day?" And to vote, all you need to do is type in Independence Day and click on your choice.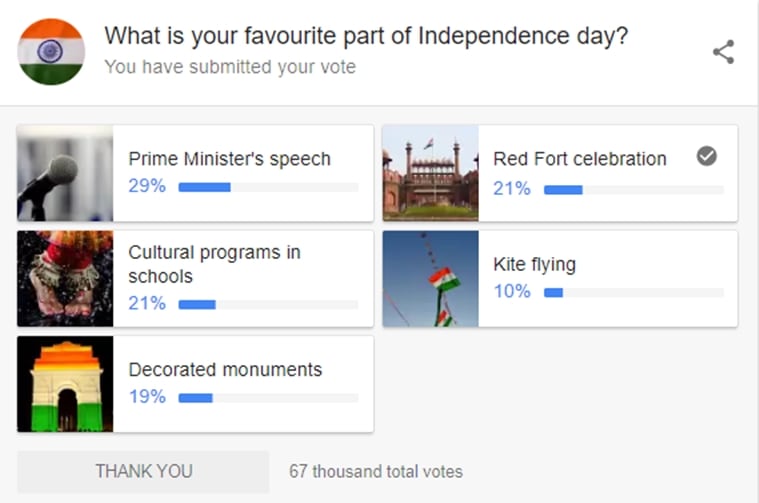 Click on Vote to register your choice. The options that Google has provided us with are five of the most significant parts of the celebrations. These are Prime Minister's speech, Red Fort celebration, Cultural programs in schools, Kite flying and Decorated monuments.
Once your vote is tabulated, the box changes to show how many people have voted already and the percentage vote each of the five options have got.
While all these constitute important parts of Independence Day revelry, it seems the Prime Minister's speech is what many have voted for. With 29 per cent vote (at the time of writing), Prime Minister's speech is in the lead, with Red Fort celebrations and cultural programmes in schools coming second with a tie of 21 per cent each. While kids in the country enthusiastically look forward to flying kites around this time of the year, it has got about 10 per cent and beautifully decorated monuments have got 19 per cent. Overall, the poll had generated 67,000 total votes at the time of writing.
VIA : indianexpress